As a small business you might ask 'why do I need HR?' if you have a small headcount and everything seems to be going well.  An HR Consultant is often engaged to support and advise when there are employee related issues or problems. That might be a situation involving redundancy, a disciplinary, grievance or dismissal.  Of course, ensuring that these situations are dealt with correctly is very important.  We do our job, help you to resolve the issue and that's that.  All good.  But there IS more to HR than troubleshooting of this kind, and it's important even (or I would argue especially) for small businesses. The way your people are managed will have a direct impact on their success, and by implication the the success of your business.  In a small business where the headcount is under 50, each employee has a greater proportional impact on the working environment, the team, the success of the business and how well it functions.
What do I need to know about HR?
The Chartered Institute for Personnel and Development (CIPD), states that Human Resources Management (HRM) is:
"…the function within an organisation that focuses on the recruitment, management, and direction of the people who work in the organisation. HRM can also be performed by line managers."
There are multiple stages in an employment relationship, some of which are included in the definition above.  If we look at this in more detail, the stages are: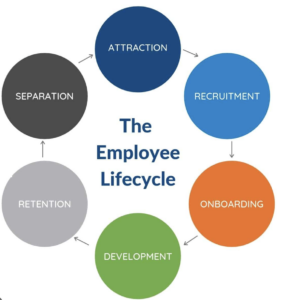 Employees experience these activities during their journey with you, their employer. But you won't positively impact the success of your people and your business without considering the 'how' in each of these areas. Let's look at each stage in more detail:
Attraction
What skills, knowledge and experience do you need, and how will you attract these people in a competitive recruitment market?
Recruitment
What are your recruitment methods, and do they successfully identify if the candidates have the skills, knowledge and experience you need?  How many of your new starters leave before they finish their probationary period with you?
Onboarding
How can you ensure effective onboarding of someone into their job and the company, enabling them to become productive quickly and begin making a positive impact on your business?
Development
How do you develop your onboarded employees? What development and progression can you provide so that your people become better and better at their jobs and become the experts, managers or leaders of the future?  Or do people leave to get that development and progression?
Retention
How do you treat your employees while they're with you? What can you offer them that will keep them loyal and engaged?  Or might they always be on the lookout for the next opportunity elsewhere?  How do you make sure you keep all the knowledge, skill and experience you have supported and developed from walking out of the door, reducing your ROI, and increasing your costs?
Separation
How do you treat leavers? Does that change depending on whether they're a voluntary or involuntary leaver? What do your current employee population observe when others leave, and does that process feel dignified, respectful and make them feel glad they still work there?  Could your leavers be employees of the future, once they've gained other experiences, and would they want to return to you?
And the cycle continues…..
What should I do?
In short, the first stage would be to look at what you currently do.  Ask yourself and selected others 5(ish!) key questions:
Are your people processes efficient and effective for the business and your people?
What kinds of experiences do your employees have at the various stages of the employee lifecycle?
What kinds of behaviours do you value? Do you see these demonstrated by your managers and employees consistently in their interactions with each other?
What kind of employer do you want to be?  How does that link in with your brand marketing and PR?
How high is your employee turnover? How successful are your attempts to recruit new talent?
This is just the start of the process, and it will lead to further conversations and questions, no doubt.  Maybe this next year is the year you start to take a strategic approach to your people management practices?
If you're asking yourself "Why do I need HR?" and you'd like more information, or if you would like support to look at any or all of these areas to make your business even more successful, get in touch.